Payment and Fees
Information on currencies we accept and payment options
Internet booking payment options.
Air Vanuatu transacts all online bookings in either Australian (AUD) or New Zealand (NZD) dollars only.
Vanuatu bookings that originate to/from: Australia, South West Pacific, and within Vanuatu (domestic) are all transacted in AUD.
Bookings to/from New Zealand are transacted in NZD.
We accept American Express, Master and Visa cards only for online payments.
NB Your bank may surcharge your account, we recommend you check if you are unsure.
For your transaction to be completed, you should have followed the step by step prompts through the booking process and received a copy of your flight itinerary, to the email address supplied, a ticket number/s will appear on this document as the final confirmation of a successful transaction.
Should you have any questions or issues with our online payment process, using our internet booking engine, please contact your nearest Air Vanuatu Sales office for action and follow up.
Currency Conversion
A Vanuatu currency conversion table is available via our Internet booking engine, once you have selected your: dates of travel, class and fare type. This is an indication only of what your transaction will cost in the relevant currency. Please note this is an indication only, your bank may charge additional fees to convert into your currency.
Below are the 3 screens you will see through the booking process.
1. On the first screen Select the "currency converter" link below.
2. The following pop-up screen will appear, select your countries currency from the index or simply type in the 3 letter code if you know it e.g. USD.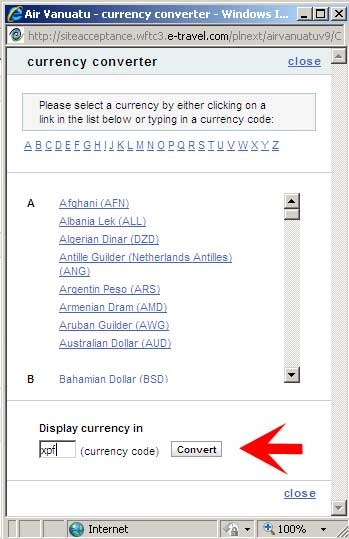 3. The total cost of the itinerary will be displayed into the selected currency - as an indication only.
All payments are transacted in Australian (AUD) or New Zealand (NZD) dollars only.