Novel Coronavirus (COVID-19) Advisory #10
---
SITUATION UPDATE
There are currently no confirmed cases of COVID-19 in Vanuatu. In the Pacific region, there are currently confirmed cases in Australia, French Polynesia, Fiji, Guam, Papua New Guinea, New Caledonia and New Zealand.
Should a case be detected in Vanuatu, the Ministry of Health's Emergency Medical Team are on standby with dedicated quarantine facilities in Port Vila and Luganville. A thorough response plan is ready should it be required.
All Government Agencies and state-owned enterprises operating within Vanuatu's international port of entry (seaports and airports) have been advised on the World Health Organization's (WHO) declaration of a Global Pandemic of COVID-19 on 11 March 2020.
The Ministry of Health under the coordination of the National Disaster Management Office (NDMO) will continue to revise the surveillance program for COVID-19. The Health Cluster operations has adopted the WHO's revised definitions for suspected, probable and confirmed cases of COVID-19 as the basis for Vanuatu's response to this disease. These definitions can be found on WHO's website 
Vanuatu continues to enhance surveillance response measures has further updated the advisory as follows:
GENERAL NOTICE TO ALL TRAVELLERS INTENDED TO COME TO VANUATU
1.1. As of March 26 2020, the President of the Republic of Vanuatu has declared a State of Emergency (SoE). This measure is taken to minimize the risk of importing COVID-19 into the country and to keep Vanuatu free from the virus.
1.2.All ports of entry into Vanuatu for both land and sea have now been officially suspended.  These measures have been taken to minimise the risk of importing COVID-19 into the country and to keep Vanuatu free from the virus.
1.3.  Special considerations will be provided for any medivac in exceptional cases with consultation with the Department of Foreign Affairs and International Cooperation.


FOR PERMANENT RESIDENTS AND CITIZENS OF VANUATU ONLY
1.4. All travels in and out of Vanuatu have been suspended for 14 Days effective from Thursday 26 March 2020.
1.5.Vanuatu citizens stranded in Australia, New Zealand, Fiji and New Caledonia are asked to contact the respective Vanuatu missions in these countries – please refer to contacts further below
1.6. All Foreign Nationals with visas expiring soon or have expired are advised to bring their passport to the Department of Immigration for the issuance of an appropriate visa to remain in Vanuatu during the COVID-19 crisis.
1.7.As of today only general cargo boats, oil, gas and fuel tankers will continue to function as usual but with strict requirements. An exemption is given to fishing boats that operate and remain only within Vanuatu's Exclusive Economic Zones (EEZ) and will be monitored by the Department of Fisheries, Ports and Harbour and the Vanuatu Maritime Surveillance Wing.
   1.7.1 The Master of all foreign going vessels coming into Vanuatu MUST provide the following documentation to the Harbour Master and the Health Surveillance Team within 24 hours prior to arrival:
              a) Voyage Memo (outlining all ports visited during the past 14 days)
               b) Maritime Health Declaration (certifying health condition of crew and captain on board)
              c)  Vaccination List (outlining any case of outbreak on board).
    1.7.2 The Harbour Master upon recommendation from the Health Surveillance Team will provide clearance to all incoming vessels, prior to berthing alongside the seaport.
      1.7.3. Crews and Captains showing symptoms of respiratory illness (flu, running nose, fever, headache, chest pain, or difficulty in breathing) or any other illnesses must report their conditions to the shipping Authorities and Health Authorities and must not leave the ship at any time while in Vanuatu.
1.8. All private, naval and scientific research vessels are suspended from entering Vanuatu waters with the exception for vessels entering our waters for the purposes of the COVID-19 related missions.
1.9. All pre-loaded inbound air cargoes destined to Port Vila are allowed subject to pre-screening by the Department of Customs in Vanuatu.
Note: This Travel Advisory #10 supersedes all previous advisories and is effective until the next travel advisory is issued.
CONTACTS
For all queries regarding COVID-19 call our toll free number: 119
For the list of contact information for Vanuatu High Commission or Consular Representative overseas please click here Annex 1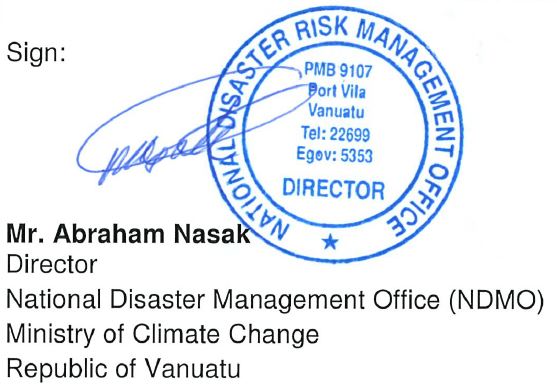 ---