Novel Coronavirus (COVID-19)_NDMO Advisory #2
---
At present, there are suspected cases of COVID-19 in Vanuatu but no confirm case(s). In the mean time we confirm that there are cases now in French Polynesia, New Caledonia, Guam, Fiji and PNG. Should a case be detected in Vanuatu, the Ministry of Health Emergency Medical Team are on standby with dedicated quarantine facilities in Port Vila and Luganville, and a thorough response plan is ready should it be required.
All cross-border government agencies, state-owned and private enterprises operating within Vanuatu's international port of entries (seaports and airports) have been advised about the current World Health Organization declaration of a Global Pandemic of COVID-19 on 11th March 2020.
The Ministry of Health under National Disaster Management Office (NDMO) Coordination will continue to revise the surveillance program for COVID-19 in Vanuatu.
Health Cluster Operations has adopted the WHO's revised definitions for suspected, probable and confirmed cases of COVID-19 as the basis for Vanuatu's response to this disease.These definitions can be found on WHO's website 
Vanuatu continues to enhance surveillance response measures have been further updated as follows:
GENERAL NOTICE TO ALL TRAVELLERS INTENDED TO COME TO VANUATU
1.1.   As of today 20 March 2020, all Vanuatu ports of entry are now closed until further notice.  This measure is                 taken to minimise the risk of importing COVID-19 into the country and to keep Vanuatu free from the virus.
1.2. All ports of entry in Aneityum Island in Tafea Province are temporarily closed until further notice. This measure is taken to minimize the risks of any possible outbreak of COVID-19 on the island or elsewhere after the cruise ship visit where there was possible contact with COIVD-19 positive passengers.
1.3. We advise that all people on Aneityum to cease travels by sea to other islands on Tafea Province of Vanuatu. This includes all flights in and out of Aneityum.
1.4. Special consideration will be applied to Foreign Diplomatic Missions and International Organizations in Vanuatu on a case to case basis in consultation with the Department of Foreign Affairs and International Cooperation (Vanuatu).
1.5. Special considerations will be provided for any medivac and evacuation on a one to one basis with consultation with the Department of Foreign Affairs and International Cooperation (Vanuatu).
Social Gatherings
1.6. Social and special gatherings such as church services, schools, weddings, bars, kava bars and night clubs are advised to reconsider the need for their activities until further notice. This is to allow for social distancing measures.


FOR PERMANENT RESIDENTS AND CITIZENS OF VANUATU ONLY
1.7. Vanuatu Citizens will be allowed to return but will be quarantined for 14 days upon arrival before they can be allowed back to their families and community.
1.8. Any traveler on a Permanent Resident or Resident visa will be allowed to board subject to the following criteria and in consultation with the Department of Immigration and the Department of Foreign Affairs and International Cooperation:   
       1.8.1. They have their whole family living in Vanuatu
       1.8.2. The person has left Vanuatu for business and needs to return
       1.8.3. The person has a business investment and resides in Vanuatu permanently
       1.8.4. Child of a resident who is studying overseas
       1.8.5. The resident is transiting less that 8hrs through Australia or New Zealand and lives in Vanuatu permanently
1.9.As of today only general cargo boats, oil, gas and fuel tankers will continue to function as usual but with strict requirements. Fishing boats are exceptional as long as they remain within the Vanuatu waters and will be monitored by the Department of Fisheries (Vanuatu).
1.10.The Harbour Master upon recommendation from the Health Surveillance Team will provide clearance to all incoming vessels, prior to berthing alongside the seaport.
1.11. Crews and Captains showing symptoms of respiratory illness (flu, running nose, fever, headache, chest pain, or difficulty in breathing) or any other illnesses must report their conditions to the shipping Authorities and Health Authorities and must not leave the ship at any time while in Vanuatu.
1.12. All private, naval and scientific research vessels are suspended from entering Vanuatu waters with the exception for vessels entering our waters for the purposes of the COVID-19 related missions.
1.13. All pre-loaded inbound air cargoes destined to Port Vila are allowed subject to pre-screening by the Department of Customs in Vanuatu.
School Closures
1.14. Government Schools in Port Vila, Luganville, and Shefa, Sanma and Tafea Provinces have been temporality closed in order for teaching staff to create remote learning options for students.
CONTACTS
For all queries regarding COVID-19: call our toll free number : 119
Alternatively:
Doctor in charge - National Taskforce:
Dr. Vincent Atua
Telephone (+678) 22100 or 112 (Emergency)
                Mobile      (+678) 771 6135
Health Surveillance Monitoring
                  Mr Vanua Sikon
                  Mobile (+678) 572 4903
Media Local Person
                  Mr Russel Tamata
                   Mobile (+678) 710 8442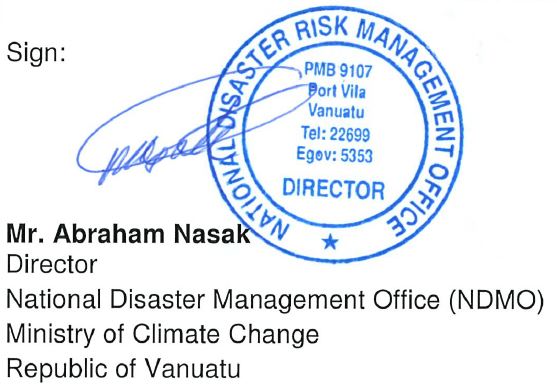 ---