Air Vanuatu Pilots Awarded Scholarship
---
Monday, 16th September 2019, Port-Vila, Vanuatu – Air Vanuatu announced today the first successful recipients of the Pilot Development Program (PDP) Scholarship under the Memorandum of Understanding (MoU) signed in May 2019 between the national airline and the Government's Ministry of Education and Training Services.
Five local Ni-Vanuatu pilots have been awarded scholarships to study in New-Zealand and Fiji to increase their qualifications so that they can begin or continue careers within Air Vanuatu.
"We are very thrilled to see this partnership come to fruition with the first group of local pilots embarking on their new professional path," says Derek Nice, Air Vanuatu Chief Executive Officer.
"We are confident they will demonstrate that this investment delivers strong benefits for Air Vanuatu and the national interests of the country."
This also marks another milestone in the airline's ten-year business plan, which is closely aligned with the national Shared Vision," added Nice.
Jack Tafan, Samson Boedoro, Spencer Noal and Junior John Harry will complete their Air Transport Pilot License (ATPL) at Nelson Aviation College in New-Zealand. Jack and Samson are currently first officers on Air Vanuatu's Twin Otter.
Stephen Tarimoliliu will be undertaking his studies around the Multi-Engine Command Instrument Rating at the Advance Aviation Training (AAT) Ltd in Fiji.
"We are grateful to the Minister of Education, Hon. Jean Pierre Nirua, Director General Bergmans Iati and their team for believing in this program and providing the necessary funding and resources to this group of ambitious and talented pilots." Says Derek Nice.
Director General of the Ministry of Education and Training Services, Mr. Bergmans Iati emphasizes that these scholarships demonstrate the Government's commitment to developing local talents and professionals and investing in the people of Vanuatu.
DG Iati added that the Ministry of Education is willing to expand its scholarship support to other professions within Air Vanuatu, including cabin crew and maintenance engineers.
"Air Vanuatu has set the lead, and now we invite other local business houses to also come forward. We encourage them to express their needs to the Ministry so we can prioritize the keys training areas which will help channel and develop the future economy of Vanuatu." Says DG Bergmans Iati.
All five students are expected to begin their three month courses in mid-September 2019.
About the Pilot Development Program (PDP): The PDP has been developed by Air Vanuatu and funded by the MoET's Scholarship Unit. Amongst other things, Air Vanuatu will be responsible for identifying and selecting pilot training academies, developing a rigorous application and selection process and ensuring that Ni-Vanuatu pilots who graduate successfully from this program can find employment at Air Vanuatu. Based on Air Vanuatu's recommendations, MoET will be funding scholarships to the identified flight academies. MoET is also responsible to review, approve and sign agreements and contracts with the selected academies.
The MoU responds to a need for 140 local pilots to join the national airline by 2030 as part of the 2030 Shared Vision, coordinated by the Air Transportation & Tourism Taskforce (AT3) involving Air Vanuatu, Airports Vanuatu Ltd and the Vanuatu Tourism Office.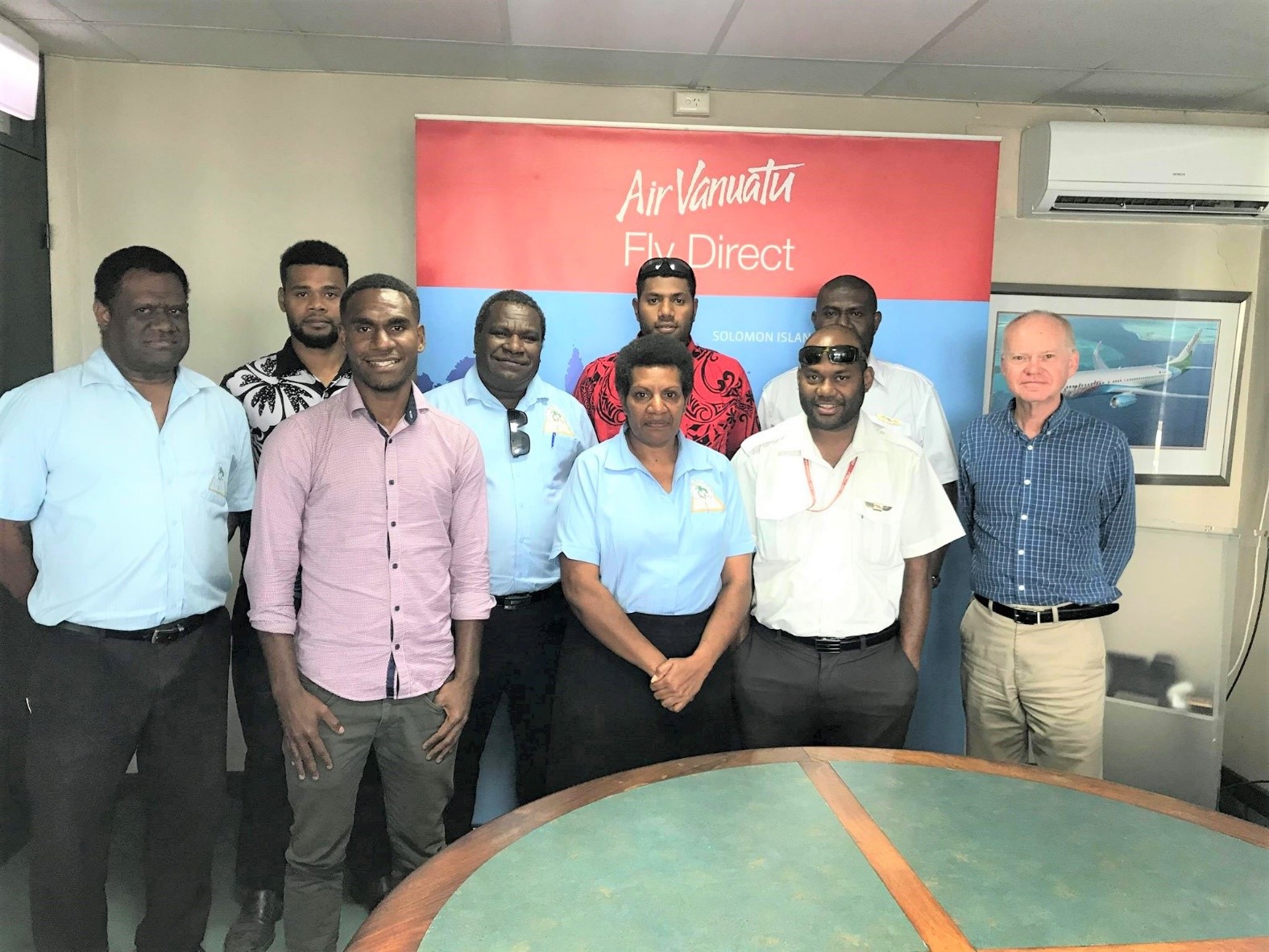 Caption: Signing of the sponsorship contracts with the five recipients at Air Vanuatu's Head Office.
From left to right : John Kaltau, Principal Education Officer (MoET),  Spencer Noal, Stephen Tarimoliliu, DG Bergmans Iati (MoET), Director Anna Bong (MoET), Junior John Harry, Samson Boedoro, Jack Tafan and Derek Nice CEO (Air Vanuatu) 
Media Contact
Paul PIO
Manager Marketing & Communications
Email – [email protected]
Tel - +678 20200 / Mob - +678 7120111
---